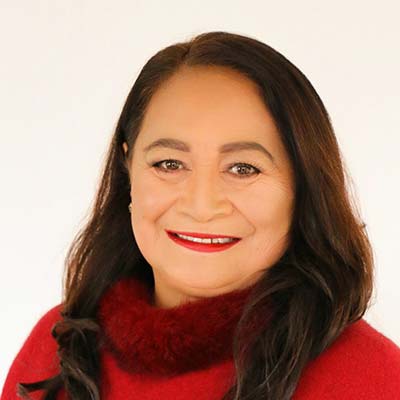 Teresa Tepania-Ashton, MNZM
Chief Executive Officer at Māori Women's Development Inc Wellington Region, New Zealand
Biography
Teresa is an experienced Chief Executive Officer with a demonstrated history of working in the executive office industry. Strong business development professional skilled in Corporate Finance, Nonprofit Organizations, Business Planning, Operations Management, Analytical Skills, and Life Coaching with a particular emphasis on Business and Leadership Coaching (Member of ICF) Teresa is a kind, quiet and respected leader who has put her decades of community and corporate governance experience to work for her people.
Teresa was the CEO of Te Rūnanga-a-Iwi o Ngāpuhi from 2004 – 2011. Today she is the CEO of Māori Women's Development Incorporated – an inspirational and well-resourced organisation that provides loans and wrap around support for Wāhine Māori in business, and their whānau.
People Tereas works with describe her as mindful, decisive, astute and a nurturing and empowering leader indicated by a number of awards and acclaims she's received such as 2016 New Zealander of the year – Local Hero and 2016 Member of the New Zealand Order of Merit for service to Māori and business
Teresa has 3 children and a growing tribe of mokopuna, is an inspiring and understated speaker. With credibility in hapū and iwi development, Reo Māori development, and governance across all sectors, she is truly a contemporary wahine Māori leader.
"Putting the emphasis on your team, ensuring that your team are ready and capable and confident about what they could do, that's what really makes you as a CEO. Being the CEO is not about you."
All sessions by Teresa Tepania-Ashton, MNZM