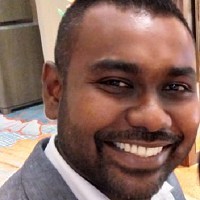 Ashan Pintoe
Director at Evolve Technologies (Pvt) Ltd, Director at CN Global PTY
Biography
I believe in building trustworthy professional relationships, collaborating and coming together to help mutual growth.
I am a go getter and a go giver. Always open for introductions to new connections and investing in "know, Like and Trust" relationships.
I am a fan of networking, advocating, contributing and adding value to the lives of others.
Director for CN Global PTY and Evolve Technologies Pvt Ltd. CN Global is a subsidiary of the parent Company Evolve Technologies.
The Services that we specialize are Software development, Web development, IT support services including NOC and SOC, Digital Marketing and SEO specialists, Finance, Accounting & Taxation Services, Cyber security and Call center services. Evolve was awarded "Best Employer Brand" by South Asia Partnership Summit & Business Awards 2016. CN Global has more than 20 years of expertise in the Information technology Industry catering to local and International clients with offices in Syndey and Melbourne.
My engagement style is different. I am not an admirer of people just trying to sell me their products or services, I am a supporter of like-minded people who would invest time in achieving together. A 3D connection is always better than a 2D connection.
All sessions by Ashan Pintoe